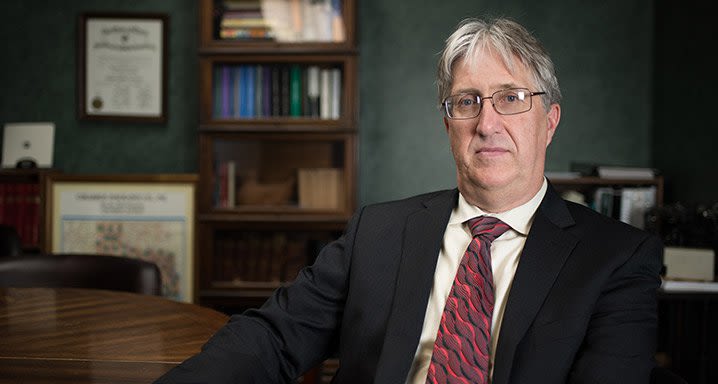 I always knew I wanted to help people, but it took me a while to figure out the best way to go about it. Since I hadn't fully decided by the time I reached college, I chose to let my natural skills and interests guide my way — which led me to study accounting. The field seemed like a good fit, so after getting my accounting degree, I went on to become a Texas Certified Public Accountant.
During my time as a CPA, I felt like I was really starting to make a difference. I guided individuals, families, small business owners, and farmers through an array of financial concerns, like income, estate, and payroll tax issues. The work was rewarding, but I began to wonder if it was right for me after all. Something told me I could do even more for my clients if I were to expand my knowledge base. And so I went back to school to study law.
In law school, I was quickly drawn to the areas I still practice today. I saw the hostility involved in some of the other fields and knew that just wasn't the kind of law I wanted to practice. I wasn't interested in seeking out or adding more conflict to legal problems; I wanted to fix them. 30 years later, my practice has evolved and changed, but I'm still very glad I chose to practice the areas that I do. Guiding clients through the legal concerns that affect their work, their future, and their families c
As I consider each aspect of your situation, I focus on how it will affect you now, in the future, and throughout your entire life.
LEARNING FROM THE PAST, LOOKING TO THE FUTURE
Now, when asked what I do for a living, my answer varies from day to day. Sometimes I explain my role of building legal safeguards; sometimes I go into detail about handling the consequences of bankruptcy, probate, and other legal issues that creep up in life; and sometimes I simply say "I help you take care of Mom."
That last answer is, I think, the most fitting description I can give for my work. Not in the sense that everyone who comes to me is looking to help their mother, per se; but in the sense that my work gives people the opportunity to take care of what matters most to them. When someone asks for my counsel, I genuinely want them to build a great estate plan for their parents. I want them to recover from their recent bankruptcy. I want them to avoid future challenges like guardianship and probate disputes. Whatever it is they need to reach a safer, more secure place, I truly want to see them get it.
I have now been in practice for over 30 years, and my desire to help others is as sincere as ever. As I look to the future, I know I will continue providing excellent service to my clients by listening to their stories, offering my empathy and understanding, arming them with knowledge, and guiding them in the manner that seems most fitting for their case. If that's the kind of care you'd like to receive from your legal counsel, please don't hesitate to reach out. I proudly serve Dallas, Fort Worth, Arlington, Mansfield, Grand Prairie, and the surrounding areas in Tarrant and Dallas Counties.
EDUCATION
J.D., Texas Tech University, 1987

B.B.A. in Accounting, Texas Tech University 1979
PROFESSIONAL ASSOCIATIONS & MEMBERSHIPS
State Bar of Texas

Texas Chapter of National Academy of Elder Care Law Attorneys

National Academy of Elder Law Attorneys

Past Member of National Association of Consumer Bankruptcy Attorneys
AWARDS
2023 Missouri and Kansas Rising Stars - Missouri Lawyers Weekly